FREE SHIPPING ON ORDERS OVER $50
PROMO CODE SHIPFREE
* One promotion per transaction.
Login
Log in if you have an account
Register
Having an account with us will allow you to check out faster in the future, store multiple addresses, view and track your orders in your account, and more.
Create an account
The Southwest Summer Foodie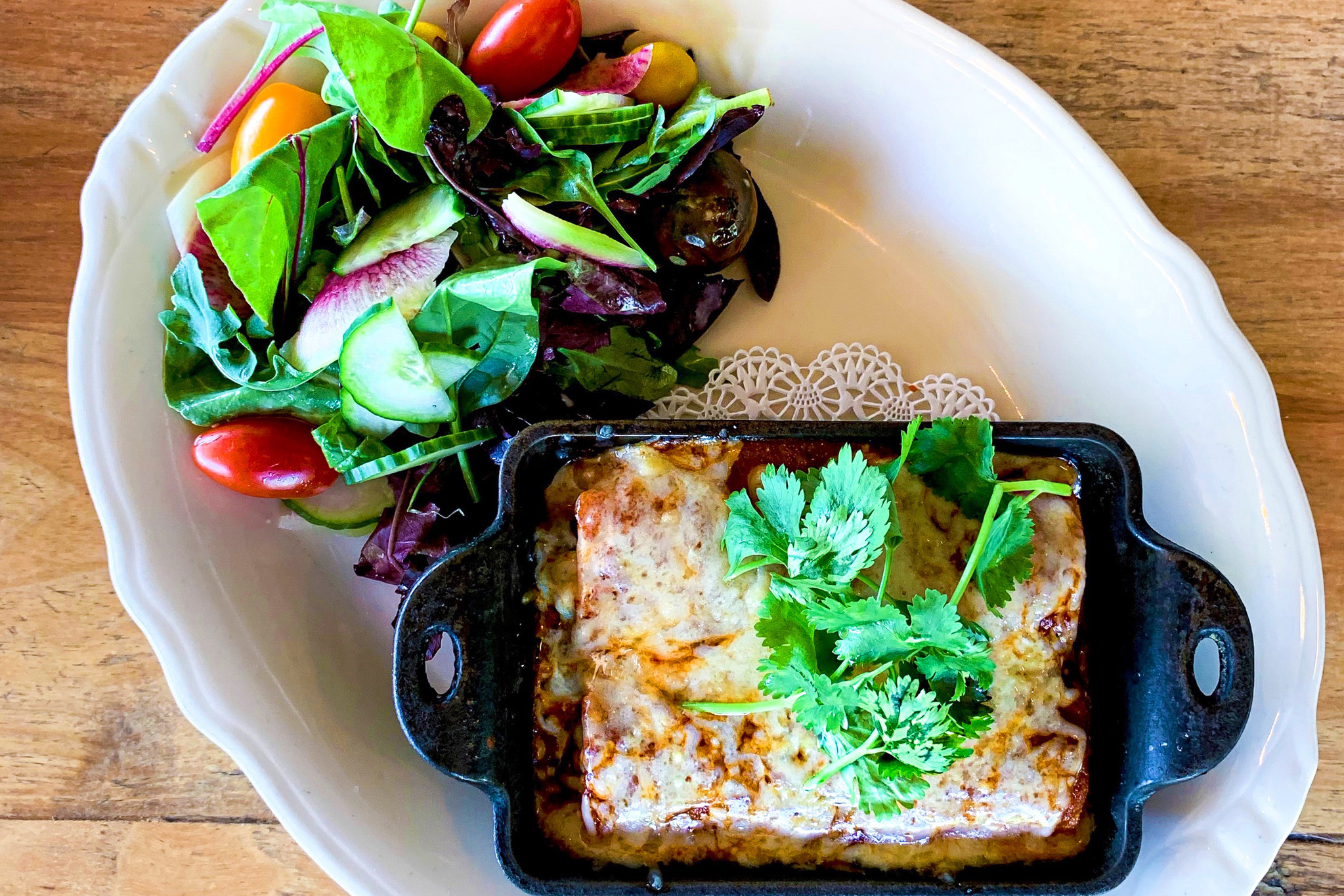 14 Jul 2019
Looking for a delicious summer recipe to 'wow' your dinner guests or simply treat yourself with a fancy dinner for one? We had the opportunity to collaborate with local chef Justin Beckett, from Southern Rail and Beckett's Table, to provide you with just that.
Below is Chef Beckett's recipe for the veggie enchiladas of your dreams! Using seasonal vegetables is the key to this mouthwatering meal. The sweet potatoes, zucchini, and brussels sprouts are married with cilantro, poblano and cumin spice to make this flavorful enchilada filling.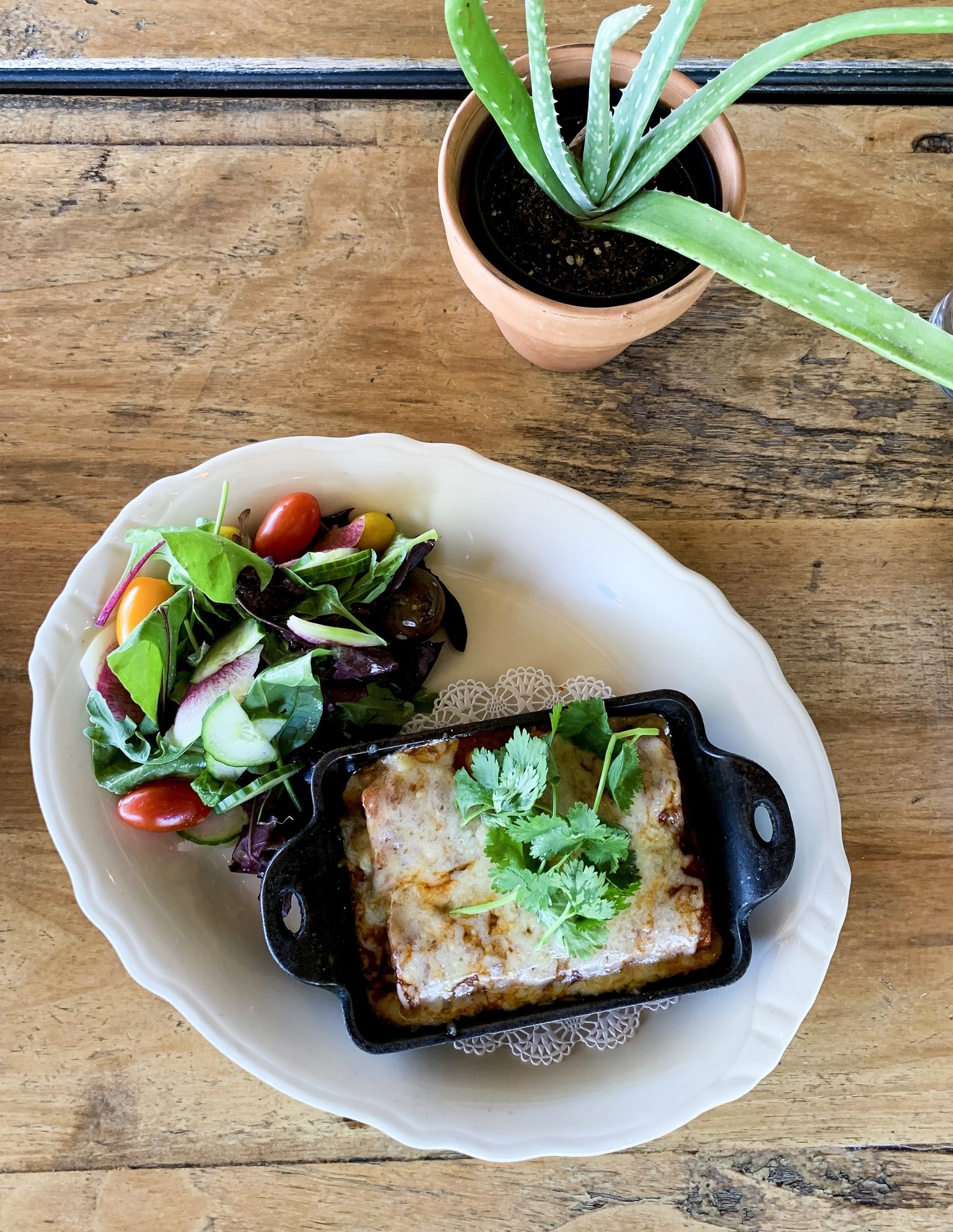 This recipe pairs perfectly with our exclusively made Lucky 13 cocktail from Iconic Cocktail Company. The details on how to create the summer duo are below!
Guajillo "Enchilada Sauce" from Chef Beckett
Yields 1/2 gallon
Ingredients:
1quart vegetable or corn stock 
8 Guajillo Chiles (seeds and stems removed)
2 Yellow onions (quartered, smoked/charred)
8 Roma tomatoes (quartered, smoked/charred)
2 TBSP Lime juice
2 Garlic Cloves
2 TBSP Smoked Paprika
2 TBSP Jerk Seasoning
1 pinch Salt
1 TBSP Cumin
1/2 bunch Cilantro (chopped, no stems)
1 quart Fire Roasted Tomatoes. NO JUICE
Directions:
1) Place onions, roma tomatoes, and garlic in a pan and char in wood oven/smoker or 500 degree oven
2) Place guajillo chili in pot with stock, bring to boil, simer till soft
3) Puree all ingredients (except cilantro) in blender till smooth
4) Add chopped cilantro to blended chile sauce
Can keep for up to a week in the refrigerator
Enchilada filling
Ingredients:
1 cup sweet potatoes (fried or roasted)
2 whole  zucchini (sliced)
1 cup  brussels sprouts (blanched or roasted)
2 whole poblanos (roasted/skinned/deseeded)
12 stems  cilantro (washed, chopped)
1/2 tsp  cumin (ground)
1 cup Guajillo Enchilada Sauce

Directions:
1) "Smoosh" the sweet potatoes into a bowl 
2) Sauté zucchini with oil, salt and pepper
3) Chop the cooked brussels
4) Chop the roasted cleaned poblanos
5) Chop cilantro
6) Mix together all ingredients until a spreadable mixture is formed
7) Use this filling to stuff the tortillas for the enchiladas.
Exclusive Lucky 13 Cocktail from Iconic Cocktail Company
Did you miss out on trying Frances' exclusive drink recipe from Iconic Cocktail Company at our 13th Anniversary Party? Don't fret, we've got the recipe card available below and in the shop!
Come and pick one up while you're in the store, located right next to our favorite Iconic Cocktail flavored mixers!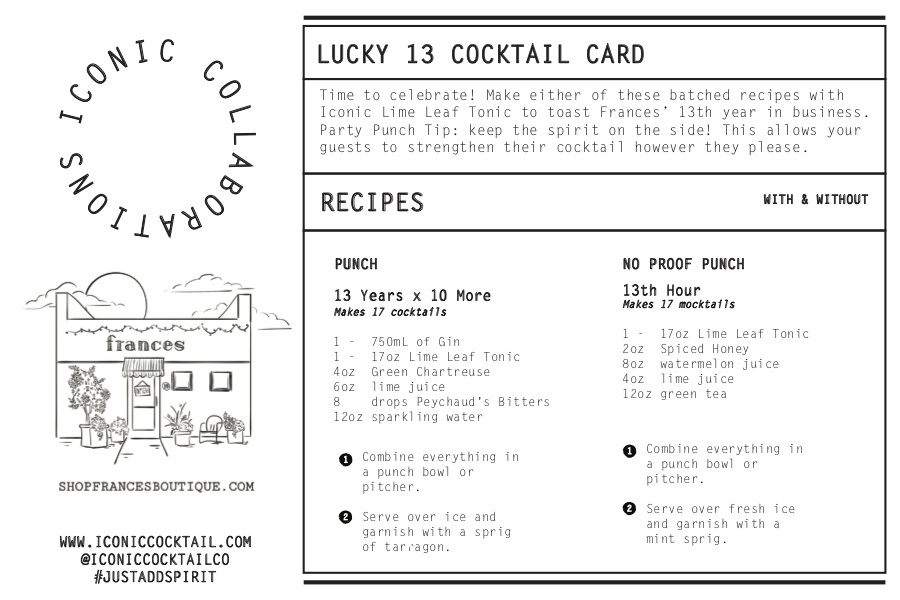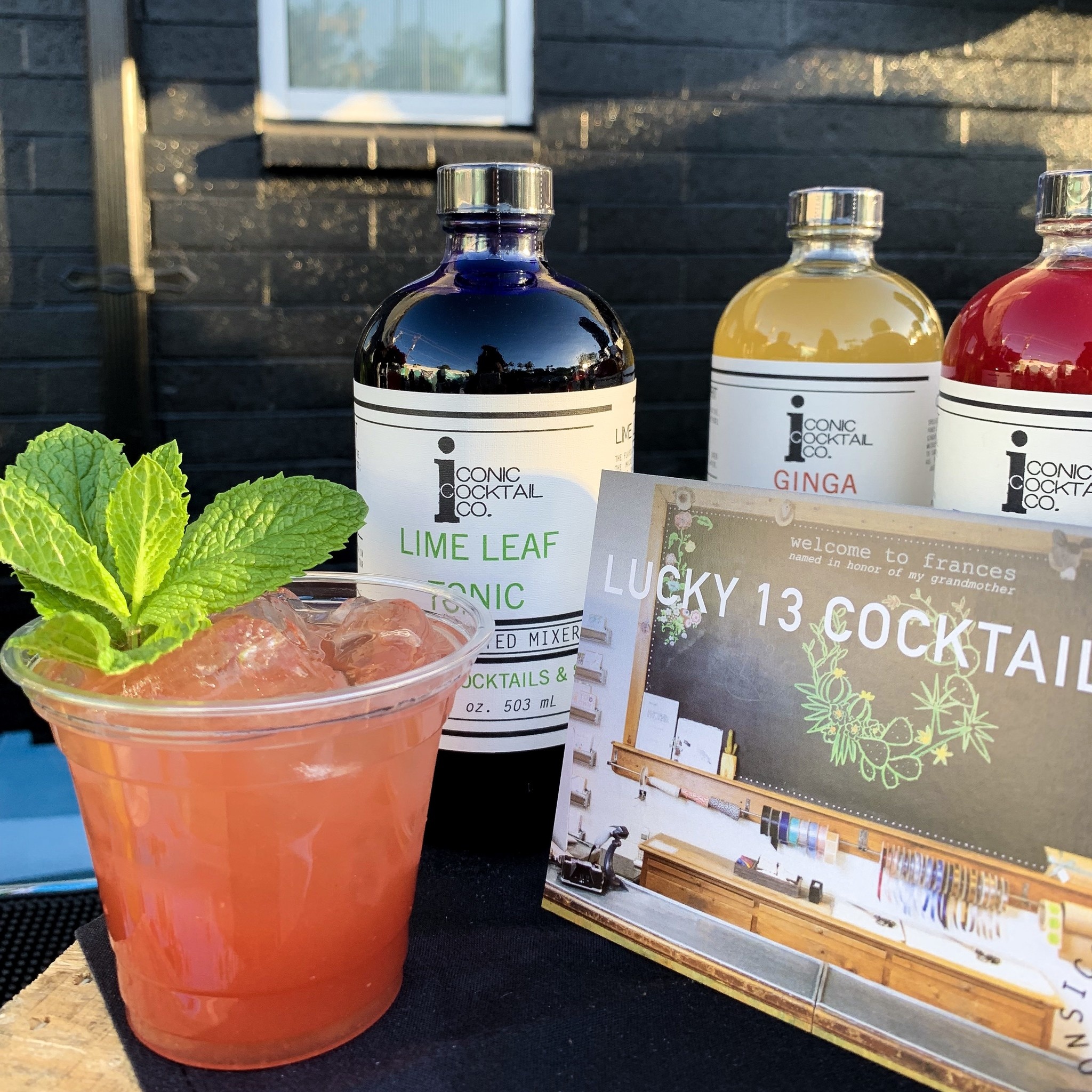 Get to know the chef behind the recipe: Chef Beckett!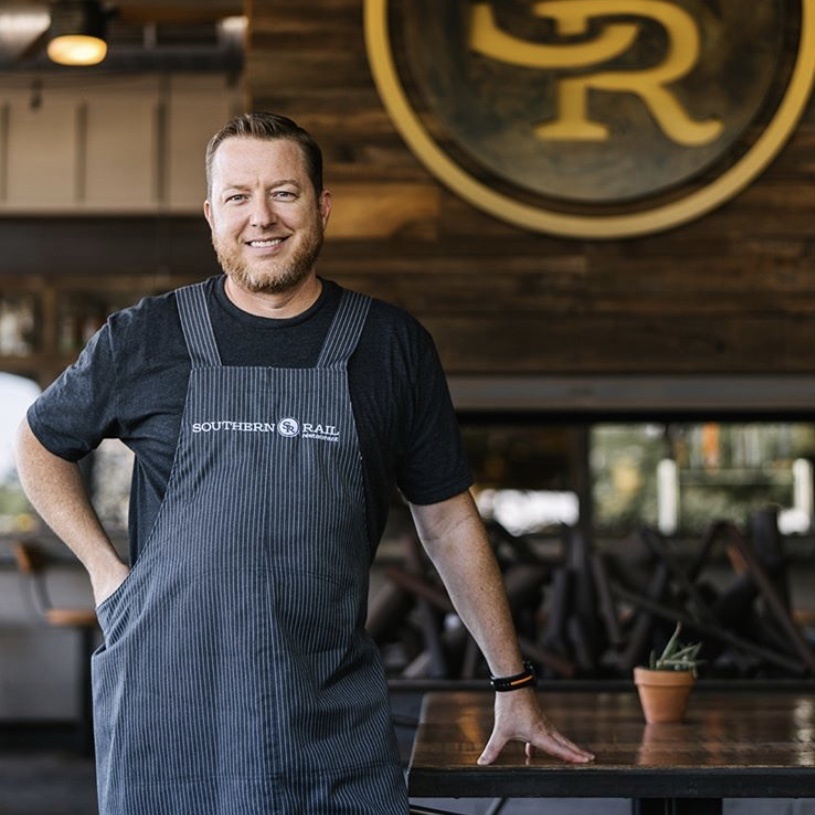 We had the opportunity to ask Justin Beckett, chef/ co-owner of Southern Rail and Beckett's Table, a few questions about his life and even a few tips for becoming a better cook in the kitchen!
Where did your passion for cooking come from?
"I am the oldest of five kids, so I kind of got thrown into the kitchen to help. For me, food is kind of how I think. I see inspirations and it makes me think of food all the time, and it seemed like a logical step for me being creative and passionate for food and it kind of went together nicely."
What has been the biggest struggle you have faced pursuing a culinary career?
"I think when you are in culinary school, your dream is to have a restaurant. Then you grow up and you work for all these people and you realize owning a restaurant is very difficult and there are plenty of challenges. I think the hardest thing for me, is doing all the things that are not cooking. Cooking is why I got into the industry and what I love about it. It is kind of a cheating answer because I am saying 'everything but cooking', but for me, hanging out in the kitchen with the people and cooking the food is the best part."
How important is it to locally source food?
"It never occurred to me how important it was and then living in a desert when I first moved here I was like 'Oh there is nothing from here.' But I can't believe how much force the gardens of the valley have on me. When vegetables change seasons, I change menus. When something is really good and seasonal and flavorful, it tastes ten times better than something that is off season. So if I were to answer the question directly, it's uber important."
What is your number one guilty food pleasure?
"I don't think I can pass up a grilled cheese. I love the one we do [Beckett's Table], the bread is perfect and then the crispy pancetta… with a good roasted pepper and tomato soup it just rounds it out. I've never really liked sweets but we make a ginger snap cookie here, and every time they come out of the oven I have to have one."
What is the best cooking tip you could give to someone who is new in the kitchen or who wants to get better at cooking?
"Cooking happens in three stages. Thinking about it (planning for it, shopping for it), prepping all the items (marinades, sauces, cut vegetables), and cooking it. The most important part comes in the preparation, the second stage. My recommendation is to focus as much as you can and take as much time in the preparing of it and then put it away, clean up, make your house pretty and nice and not a mess again, and then start cooking. We do that a lot in the restaurant because we do 20 gallons of something, and we often prep it all, clean up, and then go forward with the cooking. For baking, the number one tip is to read the entire recipe before you even do step 1. Because often times step 1 and step 17 are almost reverse. I also think recipes are made to be followed, not to be strictly enforced. So as long as you're meandering with the recipe on the way to the end, then I think it is a good creative process."